Adult Small Groups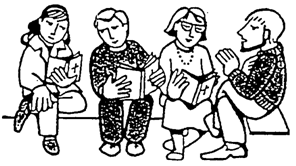 " For where two or three have gathered together in My name, I am there in their midst." Matthew 18:20 (NASB)
Small groups are the heart of our adult faith formation. They are just what they sound like, a small group of people gathering together to dig into Scripture, apply the teachings of Christ to their lives, and to draw closer to the Lord. The small group provides a place to explore and be supported as you live out your faith. These groups are a transformative experience for those involved. A place where you can draw closer to Jesus through learning and relationships.
If you are interested in a small group contact Tyler Wheeler (tyler@staparish.net, 515-460-1480). We offer a wide variety of dates and times. Please see below for some frequently asked questions.
Are Small Groups Like a Bible Study?
Small groups read the Bible but they do not approach Scripture with academic interests. Instead the group reads Scripture with the goal of drawing closer to Christ and having that encounter with Him in Scripture transform their lives. Naturally, through this process people learn more about the Bible but the ultimate goal is to encounter Christ in His Word.
What is a Typical Small Group Experience Like?
There are usually 4 to 10 people in a group. The group gathers together and has some free sharing time about their personal lives. The small group facilitator then gathers all to start the evening with prayer. Together the group reads a Scripture passage and then digs into deeply through a series of questions led by the trained small group facilitator. These questions help particpants to see the Scripture with new "eyes" and to hear what Christ is trying to communicate to them and how to apply this to their life. Sometimes other Church documents are read that supplement the Scripture. The session ends with "homework" and prayer. This "homework" is a practical way to grow in one particular area of discipleship in the coming week. We call this the "Encounter with Christ" for the week.
What Happens if I don't Know Much or I'm Not Catholic or Christian?
Small Groups are open to all! They are easy to join and you will feel comfortable no matter where you are in your faith journey. We work very hard to make our small groups intentionally welcoming to people of all walks of life. I would venture to guess that most people in the group you join won't know much either!
How Often Do Small Groups Meet and for How Long?
Small groups meet weekly and for 90 minutes.
What's My Committment if I Join a Small Group?
Just 6 weeks. After that you have the choice of whether to continue or say that small groups aren't for you.
What Kind of Groups are There?
Most of the groups are divided by gender and age but we do have a few couple groups. Contact Tyler (tyler@staparish.net, 515-292-3810) for more information on groups with openings.